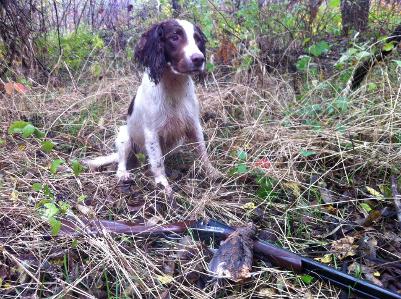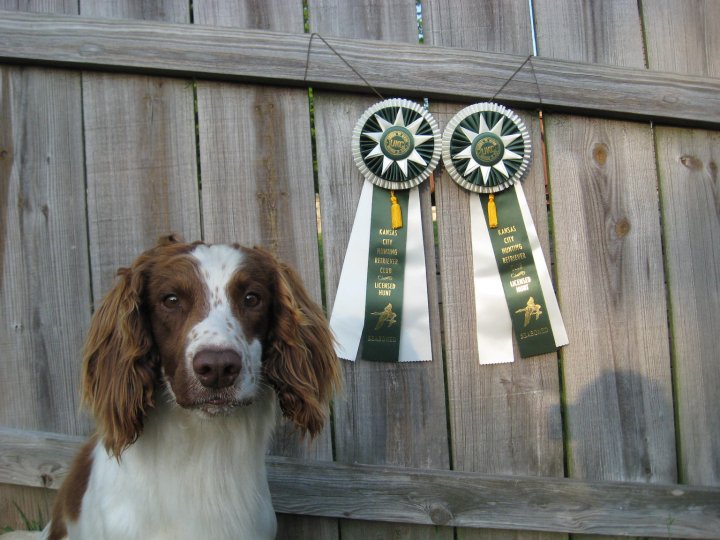 HR Burcliff's Spud of Nottingham, MH
March15, 2004 - August 20, 2018
OFA Good and CERF Normal
Spud was purchased for my son, Taylor. He was going with me to dog events and my wife felt he needed his own dog. Taylor handled Spud for his Started HRC title and AKC Junior Hunter Title. I handled Spud to his AKC Senior Hunter title and then was encouraged to steady him and work towards his Master title. I had never steadied a dog prior to this. So, with a 3.5 yr old, I steadied him and he passed 5 or 9 Master tests. I continued to run him from time to time and received 3 more Master passes. This was prior to the Advanced titles being available so I didn't continue to run him.
Spud was a very nice dog in the field. Taylor shot his first wild Kansas rooster and first woodcock over Spud. Spud became my top hunting dog. We worked European Shoots, hunted wild birds in Kansas, North and South Dakota and hunted locally for woodcock. He was an easy dog to hunt with and he knew how to find game.
Spud is a hard hunting, bird finding machine. Notable Offspring:
Bingo which has her AKC Master Hunter Title.
AFC Bullseye Briar Sanford, MH that has an AKC Master Hunter Title and also has an AKC Amateur trial win plus 14 additional points.
Woodhaven Chandler - Field Champion title with the National Upland Classic organization which hold timed hunting competitions.
Bilotta's Fedele Cane Caccioa Tilly - Needs one point and a win for AFC title