I donate a few woodcock hunts each year to local charities to help with their fund raising efforts. These hunts are "live auction" or "silent auction" items and have been well received. Local Organizations that have benefited from donated hunts are Autism Speaks, Southwest Special Care Homes, Cross Trail Outfitters, and Least of These.
This is a one day hunt for two people with me guiding you with my dogs, your dogs or a combination of dogs. This is a local trip to experience a hunting woodcock in Southwest Missouri. In the early part of the season, we can meet after work and have a chance for a nice hunt before dark. The success in seeing birds will be heavily dependent on the woodcock migration. We never know how the birds will come through or how long we will have birds in the thickets. However, if you are flexible with your schedule, I will assure you that we will go an additional time if necessary to get you into birds.
If you are involved in fund raising for a local charity, feel free to contact me to see if I have any hunts left to donate for the upcoming woodcock season.
Woodcock season goes from Oct 15 through Nov 28. The limit is 3 per day. The shooting can be difficult and challenging. I use my spaniels which are "flushing" dogs. They do not point nor do I want them to point. They dogs will work the cover and assist in producing birds for the gun. The dogs are steady to flush and shot in order to keep them safe from an errant shot also to keep from re-flushing a bird before we are ready for a possible shot. The dogs retrieve to hand and also handle on blind retrieves. See pictures on the "Woodcock Hunting" page. I will take pictures of you with the dogs and with your birds which I will email to you for your use.
I have taken young hunters and old hunters alike. This is not a fast hunt or a "long walk" hunt. It is not "easy" but the dogs and I can adjust the speed and ground coverage to fit any hunter.
The dogs are all AKC Master Hunter titled and proven in the field. They are steady to flush, shot and fall and will retrieve to hand. If hunting with someone that has a pointing breed of dog, the spaniels will be under control and they will not run in and flush the bird in front of your dog. I can keep my dog at heel and work areas when your dog is searching away from us.
If possible, I would appreciate getting to visit with hunters prior to the hunting season. If the hunter understands the dogs and my style of hunting, then expectations will be similar for the quality of hunt.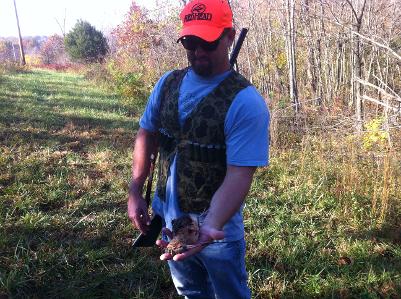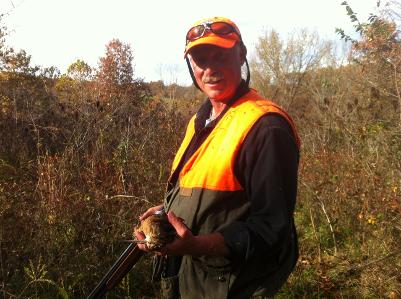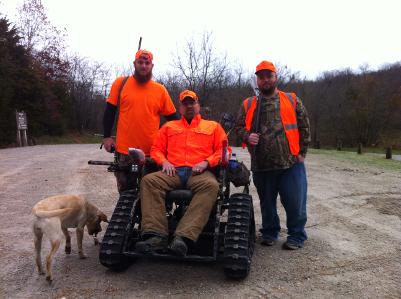 3 veterans getting to enjoy a walk in the woodcock thicket. We only saw a couple birds and they didn't get any shots. It was a fun day to meet these men and spend the morning with them.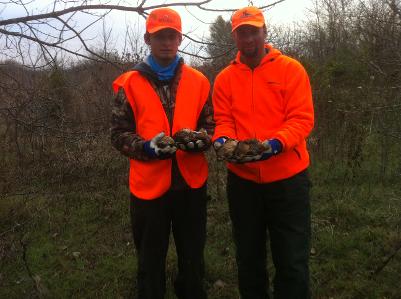 Father / Son with a 3 bird limit of woodcock each. It was a good day!