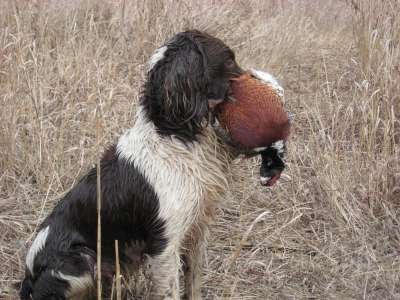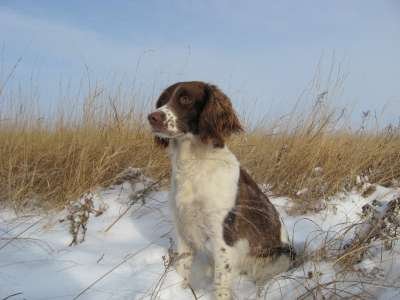 Nottingham's B8, MH "Bingo"
4/28/2005 - 10/18/2017
OFA Good CERF Normal
Bingo has been fun to watch grow up and then hunt. When Bingo was a pup, I was able to take her to Kansas and get her into some birds. She started trailing birds and the birds started teaching her some things. She learned quickly and has been a joy to hunt with through the years.
I have had the opportunity to hunt Bingo on wild pheasants in Kansas, South Dakota and North Dakota. She is a great on woodcock and works hard to produce birds and make her retrieves. She has also retrieved the occasional waterfowl. She is a top choice to have retrieving duties at a European Style pheasant shoot.
Bingo's first breeding was to FC AFC CFC Highlander's Robb Roy MH. Bingo had 5 pups, 4 males and 1 female. My Lee Roy is out of this breeding. Another male has its Junior and Senior title and a couple Master Passes. Another male has its Junior Title and Senior pass. The female has her Junior title and Senior Passes. This litter was a nice group of dogs.
Bingo's second breeding was to ..... 2009 NFC FC AFC Adamsmark 2nd Chance. There was only one pup, a female, from the breeding. I kept her and her call name is Josie. I have been very pleased with this pup. See Josie's page for her life story. She was an amazing little girl.
Bingo's third breeding was a repeat breeding To NFC FC AFC Adamsmark 2nd Chance. The pups were born on Tuesday March 19, 2013. There were 3 pups with 2 males and 1 female. All were spoken for when they were born. The pups went to Nebraska and Kansas. The families are all pleased with their pups. The female became an Amateur Field Champion. She is now AFC Flatwater's I Love Right Up to the Moon and Back, SH "Jacy".
Bingo was my second Master Hunter titled dog. She will be forever remembered as the mother of an incredible dog, Josie.